Breakfast
Breakfast is offered in the main dining room with open seating in a relaxed and casual atmosphere. The breakfast buffet offers guests a large variety of choices including fresh baked breads, rolls and Danish, bacon and sausage, eggs, cold cuts and cheeses, baked beans, made to order eggs, fresh fruits and other continental and European breakfast items. All are beautifully presented and are a delicious way to wake up.
Lunch
Lunchtime is another exciting event. The lunch buffet includes a variety of starters, a fresh salad bar, and a selection of homemade soups. Guests can also select the sandwich of the day, pasta, and a selection of entrees and vegetables. Delicious desserts and fresh fruits round out the meal. Whatever your choices your appetite will be satisfied and your palate thrilled with the options.
Dinner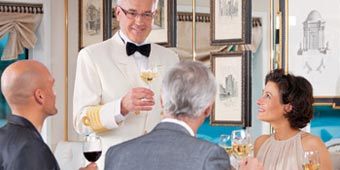 A sit down, multi course, dinner service is an adventure all its own. Familiar favorites are intermingled with local specialties prepared with freshly procured ingredients. A choice of appetizers is followed by one of the delicious homemade soups. The entrees normally include a pasta option, a seafood option, a meat or poultry option and a vegetarian option. Each cruise also features a special welcome dinner and a Gala Farewell Dinner. All meals are exquisitely prepared and the service exceptional.